Stats, facts and future trends – June 2016
July 6th, 2016
This month, we look at the increase in interactive content, the vital part secondary influencers play in successful campaigns, and why 'dark social' dominates social sharing.
Marketers plan more interactive content
Three quarters of content marketers plan to increase their use of interactive content in 2016, with even more agreeing that such material is more effective at grabbing users' attention, a new report has said. The study, from the Content Marketing Institute (CMI), found that:
• 53% of content marketers were already using interactive content, including assessments, calculators and contests, a figure that rose to 65% at the enterprise level.
• 81% agreed that such content was more effective at the critical engagement stage, while 79% agreed that it enhanced retention of brand messaging when combined with traditional marketing tactics.
• Respondents chose educating the audience as the primary purpose (75%), followed by engagement (59%), lead generation (58%) and creating brand awareness (57%).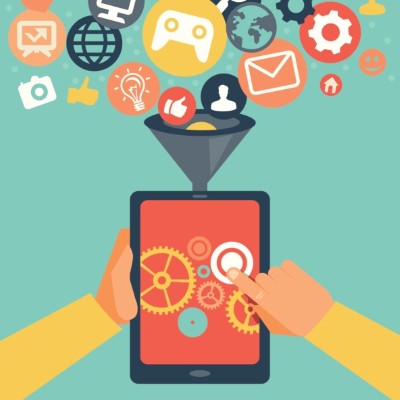 The authors, Tim Walters and Robert Rose, observed that the internet is finally moving from "a static, one-way publishing platform" into "a true two-way dialogue" that enables marketers to gain a deeper insight into what consumers are trying to achieve and how marketers can help.
"It's the difference between watching customers as they stroll through a store and having a conversation with them," they said. Further, "consumer expectations and demands will soon make interactive content an imperative … increasing exposure to interactive content will excite an appetite among consumers that cannot be satisfied with traditional passive content alone".
Source: Content Marketing Institute
To read the full article, click here.
UK social media users turned off by brand bombardment
A study by The Chartered Institute of Marketing (CIM) has indicated that an increase in brand content delivered on social media platforms would turn consumers off the brand. The study found that:
• 52% of UK social media users said a brand bombarding them with too much content would lose trust/be turned off by a brand on social media.
• 39% said that they would be turned off if they found out that content the brand claimed to be real wasn't genuine.
• Further down the list, 22% would lose trust in a brand if they read a negative story about them in the press, while 20% would be turned off if others on social media had bad experiences with the brand.
The problem is, brands don't appear to be heeding the warnings. April 2015 polling by Atomik Research for content marketing agency Headstream asked UK internet users what most frustrated them about social media updates. The most popular answer? "Too much" of it.
Sources: The Chartered Institute of Marketing, Atomik Research, Headstream
To read the full article, click here.
Focus on ad content, not device

New research has shown that consumers are embracing screens equally and showing similar emotional reactions, regardless of device, when it comes to video advertising. Gateway Research analysed 1,290 ad spots, across TV, desktop and mobile, amongst 60 Australian participants, and found that:
• Desktop was just as effective as TV in driving emotional impact.
• Consumers were focused primarily on content rather than device.
• Message attention and ad recall showed little difference between screens, although leading with TV or desktop exposure followed by mobile created highest emotional connection with consumers.
• The use of familiar faces, movement and animals in creative were the most effective triggers for gaining attention, while music, humour and familiarity were key to an emotional reaction.
Ken Pao, Managing Director, APAC, Videology, observed that most video-related research focused on simple usage statistics. "Based on in-depth analysis of consumer viewing habits, in a live setting, this study lifts the lid on the black box of consumer behaviour and uncovers what it really takes to capture viewer attention," he said. "Key to success is high quality creative."
Source: Videology
To read the full article, click here.
Secondary influencers key to 'virality'

A new study has said that secondary influencers – defined as those who share content received from other influencers – are the true key to an online video going viral and achieving the highest levels of engagement and reach. Ogilvy & Mather analysed the sharing patterns of 66 video campaigns and found that:
• Only one in five of the videos tested on Twitter managed to motivate a second wave of influencers.
• But the vast majority of those that did (more than nine out of ten) were successful. This was true no matter what the style or source of the video.
• The most significant common theme in successful content was that secondary influencers want to add their own point of view.
• 60% agreed that this was a reason to share content – a percentage that jumped to 77% among the most influential online video sharers.
"Big influencers will give an initial boost [to a campaign] but those that had the longest tail and the most intense viewing were the ones with second tier influencers," said Thomas Crampton, global managing director of Social@Ogilvy.
"First wave influencers offer a sugar high, second wave influencers are the ones that give a campaign its heft and momentum,"
Sources: Ogilvy & Mather, Marketing Week
To read the full article, click here. 
Native video beats pre-roll

Mobile video ads on publishers' websites can perform significantly better than those on social media, according to new research. Teads, a native video advertising company, used eye-tracking in a laboratory environment to measure the impact of various content environments on the performance of mobile marketing and found that:
• The content environment is a major contributor to how users engage with advertising.
• In-article native video ads are more likely to be viewed than those in social feeds – by nine in ten respondents compared to six in ten – while dwell time for such ads is 24% longer.
• Consequently, unaided ad recall for this format was around twice as high as for skippable pre-rolls.
• Purchase intent was shown to be 27% higher for native video ads than for skippable pre-rolls or those in social feeds.
"People are engaging in a very different manner," Bertrand Quesada, Teads CEO, told Adweek, adding that the level of engagement for video ads on Facebook and Twitter was "nowhere near" that of the videos his business placed on publishers' websites.
Sources: Teads, Adweek
To read the full article, click here.
Dark social dominates mobile sharing

New research has shown that online content typically comes with a variety of social sharing options, but the great majority of mobile users prefer to share via email, text and instant messaging, or 'dark social'. Martech company RadiumOne analysed the actions of 940m users around the world who shared content and found that:
• Despite publishers making it easy to share content via a range of social media platforms, more than three quarters (77%) of publishers' and marketers' content shared via mobiles in the UK happens in 'dark social'.
• Just 23% is shared on social networks.
• The UK figures for dark social sharing were slightly below the global average of 82%, although more UK users were likely to engage with content shared this way.
• 80% of UK mobile clickbacks happen via dark social, compared to 67% globally.
Rupert Staines, European Managing Director at RadiumOne, suggested the industry – brands, content creators, media buyers – need to take a broader and more ROI-focused approach to how they think about this aspect of the sharing universe. But "brands can harness sharing technology to allow them to take a channel and platform-agnostic approach to keeping up with consumers," he said. "The opportunity for brands is to track, gather and activate these valuable signals to connect their owned and earned media investments with paid media effectiveness."
Source: RadiumOne
To read the full article, click here. 
Interactive content commands content marketing and paid social channels

Research suggests that content marketing is the leading format for campaigns which include interactive media content. Staffing firm TeamPeople surveyed media and audiovisual professionals in the US about how they use interactive media content – material designed specifically for audience interaction and broadcast via digital channels – and found that:
• More than two-fifths (43%) of US media and AV executives are creating interactive media content for content marketing.
• Nearly the same number are working on interactive content for paid social media campaigns (42%).
• Internal brand promotion (42%) and non-paid social media (38%) are other areas that respondents said they create interactive content for.
• However, 18% said they are not creating interactive content for any of their marketing campaigns.
A separate study in March 2016 from YuMe and Ipsos polled US internet users on their stance toward interactive vs non-interactive video ads. Of those surveyed, 54% said they paid more attention to a highly interactive format, such as videos that had embedded quizzes. That compared to 48% who said they paid more attention to non-interactive video ads. And nearly half of respondents said they would opt for ads delivered with more interactivity, which can also include social features or interactive buttons.
Sources: TeamPeople, YuMe, Ipsos
To read the full article, click here.
Commissioned by The CMA
Share:   
Posted in Stats, Facts & Future Trends