Stats, Facts & Future Trends: March 2017
March 29th, 2017
This month, we discover the difference time makes on the impact of content marketing, the upwards trajectory of digital video viewing, and why many content publishers aren't native compliant
Positive mood boosts content marketing
Advertisers able to reach consumers when they're in the right mood could increase the impact of content marketing by as much as 28%, according to new research. Yahoo's Receptivity of Emotions study was based on a study of 600 people in the US, UK, Germany and Canada, and found that:
US and UK consumers are 'upbeat' 46% of the time – the most common mood.
This upbeat mood is most likely to be encountered around lunchtime – between 11am and 2pm.
When these consumers are upbeat, they are 24% more receptive to content in general and 40% more likely to be receptive to digital advertising in particular.
Upbeat consumers are 30% more likely to engage with native video content than in other emotional states.
They are also 28% more likely to engage with content marketing.
"The idea of aiming to engage with consumers when they are feeling upbeat may seem obvious at first, but never before have we been able to appreciate the extent of the impact it can have on a campaign's success," said Nigel Clarkson, Managing Director of Yahoo UK. "Digital marketers focused on the importance of reaching the right person, on the right device, at the right time need to appreciate that "the 'right time' should be about more than the webpage they're viewing at that moment. We should be striving to take a consumer's emotions into account as well."
Source: Yahoo
To find out more, click here.
Content marketing a better bet with teens in the UK
Content marketing has a better chance of appealing to teens ages 16 to 19 than to older internet users in the UK, according to a recent survey by Kantar Millward Brown. The survey looked at the media and advertising preferences of three age groups – Gen Z (ages 16 to 19), Gen Y (ages 20 to 34) and Gen X (ages 35 to 49) – in multiple countries, and found that:
Social newsfeeds were the branded content type about which the largest proportion of UK teens had a "very" or "somewhat positive" attitude.
This was followed by branded events and social celebrity content.
Overall, more teen respondents in the UK were positive about every branded content option than those aged 20-34 or 35-49.
The study found that teen internet users in Germany expressed similar sentiments. Here, teens were more positive about all of the branded content options than their older counterparts. The disparity in positivity toward branded content between teens and other respondents was less noticeable in France, Italy or Spain. In some cases, teens were less positive than older internet users.
Source: Kantar Millward Brown
To find out more, click here.
Mobile to eat up a third of UK ad spend this year
According to eMarketer's latest UK ad spending forecast, mobile ad spending in the UK will reach almost £7 billion ($9.45bn) this year to represent more than a third (36.6%) of UK media ad investment. The forecast also predicted that:
Overall digital ad spend will grow 11% in 2017 to £10.89bn ($14.7bn), accounting for 57.9% of total media ad spend.
• With investment anticipated to surge by 27.4%, mobile will drive much of this growth as marketers pursue increasingly smartphone-focused consumers.
It's expected that further gains in mobile ad spending will occur in the years to come, with annual outlays topping £12bn ($16.2bn) by 2021.
Google will gather the largest share of UK digital ad revenues in 2017, amassing 40.7%, followed by Facebook, which will take a 16.4% slice.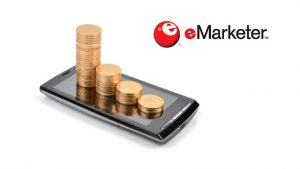 "Google still attracts the lion's share of digital ad spend in the UK," said eMarketer's UK senior analyst Bill Fisher. "However, Facebook is seeing strong growth thanks to investments in video and a stellar performance from Instagram."
Source: eMarketer
To find out more, click here.
Mobile usage reaches five hours a day
Online consumers in the US now spend five hours a day using their mobile devices, an increase of 20% compared to the fourth quarter of 2015, according to a new study.
Flurry, a mobile analytics firm, also reported that there has been a significant shift to apps as the amount of time users spend in browsers has steadily declined. Other key findings include:
Browser share on mobile stood at 8% in Q4 2016, down from 9% in Q4 2015, 10% in Q2 2015, 14% in Q1 2014 and 20% in Q1 2013.
About half (51%) of the time US mobile users spend on their phones is spent in social, messaging, media and entertainment apps.
Facebook dominates the average time US consumers spend on their mobiles each day, with 19% of time spent on the app, while YouTube commands a 3% share and Snapchat takes up 2%.
The time spent in games has been declining and now stands at 11%, while utilities takes 9% of mobile app time, and lifestyle & shopping secures 5% of users' attention.
"Apps continued to reign supreme as time spent in browsers faded; and the chat-bot revolution, which was touted in 2016 as 'the app killer', simply fizzled," commented Flurry SVP Simon Khalaf and Analytics Manager Lali Kesiraju. "With users more willing to spend money on apps – partially due to frictionless payment methods like Apple Pay and Android Pay – shopping apps saw a significant growth."
Source: Flurry
To find out more, click here.
Digital video viewing more common than smartphone use in the UK
Digital video viewing is one of the most common digital activities in the UK, with an estimated 43.2 million people watching digital video content via any device at least once per month in 2017. This comes from a tracking study by eMarketer, which also found that:
An estimated 65.1% of the UK population will be digital video viewers, compared with 64.3% who will be smartphone users.
Uptake among children ages 11 and younger and adults 55 and older will drive the rising digital video viewership in the UK.
Nearly seven in 10 smartphone users and almost half of the country's population in general will watch videos via smartphone this year.
47% of UK adult social video viewers watched branded videos in the social media sphere, and 43% went on to make a purchase after doing so.
"It seems remarkable that such a high percentage of social video viewers will go on to make a purchase after seeing a branded ad in such an environment," said eMarketer senior analyst Bill Fisher. "However, this is merely symptomatic of the engagement that social video offers. That is, there's a user choice involved in the decision to engage. As a brand you still need to foster that engagement, but if you can the rewards appear to be sizable."
Sources: eMarketer, Brightcove
To find out more, click here.
Third of publishers not native compliant
More than one third of publishers are failing to label sponsored content correctly and brands need to sit up and take notice. MediaRadar, an ad sales intelligence firm, looked at sponsored content ads from 12,000 brands during the course of 2016, and reported that a significant proportion of digital publishers weren't meeting the FTC guidelines issued in December 2015 and were risking reputation and revenue. The report found that:
37% of digital publishers were not native compliant.
However, there has been a significant improvement over the past year, as a previous study found that 71% of publishers didn't comply.
Many of the publishers not meeting the guidelines are likely to be mislabelling content – only 5% of publishers provided no labelling at all – with terms such as "sponsored" (74%) or "promoted" (11%) rather than the FTC-approved "sponsored content".
32% of publishers apply these labels to the bottom of posts, while FTC guidance prefers the top.
"More publishers have familiarised themselves with the rules and are observing them." said Todd Krizelman, CEO at MediaRadar. "But there is still room for improvement. There is a group of people unaware that the law exists or that doesn't care."
Source: Ad Exchanger
To find out more, click here.
Majority of UK population use a second screen while watching TV
Three-quarters of the British population use a connected device while watching TV, a trend that rises to 93% in the under-25 age range, according to a new report from Google that highlights the rise of smartphone adoption. The Google Consumer Barometer Report, a five-year study that includes 625 thousand interviews with consumers around the world, found that:
Three in four people in the UK now use a smartphone, a number that's nearly doubled in five years.
The average Briton uses 3.3 internet-connected devices.
The public increasingly looks to the internet when they need information, with 84% of consumers choosing the internet over other mediums.
More than half of the British public prefer to do a task digitally if they have a choice.
The drivers of digital technology use are those under the age of 25, who are becoming increasingly reliant on their smartphone to find information (88% use search engines at least weekly), watch video (77% watch online videos at least weekly), interact with friends (90% visit social networks at least weekly) and go shopping (28% purchase products or services at least weekly, while 46% look for product information).
Source: Google
To find out more, click here.
Consumers like tech but want control
American consumers are open to new technologies, such as artificial intelligence and the Internet of Things, but brands operating in this field must tread carefully or risk a backlash. That is according to Oracle Retail, the retail and hospitality division of tech giant Oracle, which polled more than 700 consumers in February 2017 about their attitudes towards virtual reality and other new technologies, and found that:
Almost two-thirds (64%) liked the option of using virtual reality to navigate a personalised in-store experience, or to build a hand-picked wardrobe to try on in-store.
A similar proportion (67%) liked the option of drones delivering to their doorstep in near-time, while 64% responded favourably to the concept of having a retailer suggest a custom-made accessory for them produced with 3D printing.
58% were positive about retailers suggesting a shopping list based on purchase history and social data.
However, 54% indicated that having a grocer automatically charge and ship items based on purchase history, social and environmental data was invasive.
Another 57% of consumers considered apparel recommendations from robots, based on their social media profile, also to be invasive.
"Consumers clearly indicated that they have a conservative appetite for retail technologies that requires deep personal data and make decisions on their behalf," said Mike Webster, SVP and General Manager at Oracle Retail and Oracle Hospitality. "This signals brands to focus on building a strong foundation to win trust. Warm attitudes toward utilising virtual reality and receiving recommendations for custom-made accessories produced with 3D printing points to consumers' willingness to adopt new technologies if they are in control of their experience."
Source: Oracle Retail
To find out more, click here.
Commissioned by The CMA
Share:   
Posted in Stats, Facts & Future Trends