Hyper-Personalisation: Laser-Focus Your Content
April 10th, 2018
Personalisation has been a thing in marketing since long before Starbucks started misspelling our names on our vanilla lattes. Now it's evolving. Hyper-personalisation in content marketing uses data in an advanced way to ensure the right customer gets the right message at the right time.
Hyper-personalisation could help you have more meaningful interactions with your potential customers – and it's not as complicated as you think …
How many times have you been subjected to an ad that clearly wasn't meant for you? How many times today? Unwelcome ad for a university you've already graduated from? Car insurance? A new cryptocurrency? A breast augmentation?
According to research, 50 percent of all ads are closed before they have even finished loading. Men fight off ads for Viagra. Ads for pregnancy tests fly at women whether they want children or not.
With all the marketing tools at our disposal these days there is no excuse for any of these scenarios. At best your messages are annoying and irrelevant – at worst they are offensive. Either way, they're not doing your brand image any favours.
What do we mean when we say hyper-personalisation?
Hyper-personalisation is the gold standard in marketing. It's not just calling someone by their first name (although as proven by All 4's Alien: Covenant promos, this can work amazingly well). Neither is it assuming what their preferences are based on age and gender.
Instead it means a focus on bespoke context – customisation of the marketing message around who the user is as a person, what their lifestyle is like, what their interests are and what they are doing in real-time. How do we know all this? Data.
As marketers we have access to ever-bigger volumes of big data, as well as ever more advanced tools to help us sort through and sift.
Hyper-personalisation means using all of this to deliver highly relevant marketing where data, targeting and messaging are aligned. Brands are tailoring their offering like never before.
Benefits include:
– Highly relevant content/ ads
– Enhanced customer experience
– Customer loyalty
There seem to be no limits to where hyper-personalisation is headed next. Advancements in AI are allowing us to automate data processing more and more – making our messy data actually mean something. With swift developments in the natural language processing technology made popular by Alexa and Siri, speech-to-text and visual recognition tech will continue to enhance how we are able to engage audiences.
We can show our users content based on:
– Demographic
– Behaviour (i.e. what they search for or click on)
– Apps
– Physical location (thank you very much, Google Maps)
Get it right
Collect the right kind of data and be careful what you do with it With the compliance deadline for GDPR here, we all need to be very careful with our customers' data and make sure we follow best practices when it comes to collection and consent.
Narrowly segment your audience If you're just starting out – keep it simple. Try segmenting your audience by gender or age range – then showing imagery relevant to that group. Once you've nailed that, you can take it a bit further. Try creating segments of people who consistently buy a certain product or always buy at the same time of year. You could target them with a message just before they are due to buy again.

Be aware that reach may be reducedSome critics have pointed out that narrow targeting can reduce the number of people likely to see your content and requires more effort than spray-and-pray content. While this is true, it's important to remember that your reach will only be limited to those likely to actually engage with your brand. These are the guys you want!
Avoiding generic messaging As personalisation increases, so does automation. While this might sound like a bit of a contradiction, getting really specific with your messaging reminds audiences that it's all about them. When refining your messages, prioritise your customer's context.
Be surprising Audiences tend to be delighted when you offer them personalised content where they're not expecting it.
The brands nailing it
Netflix We're all aware that Netflix makes recommendations based on what we've already watched – but did you know it also gives you personalised artwork for each TV show/ movie? The platform watches you closely and takes note of what kind of imagery entices you.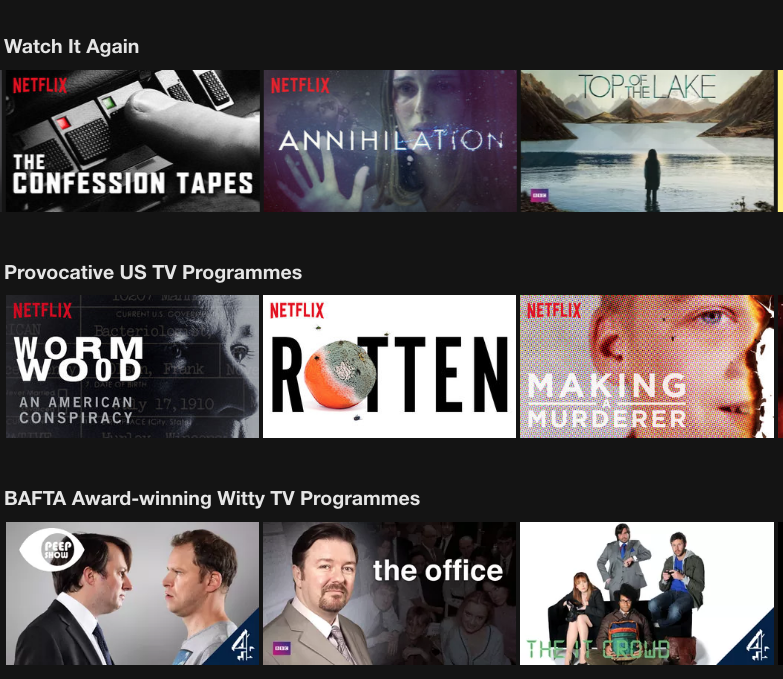 Amazon Amazon are pioneers in personalisation for the upsell. The brand's algorithm is constantly being updated to broaden its personalised offering – its latest development is the Amazon Assistant (pictured).  Products are recommended based on what users have bought in the past, items they have in their virtual shopping carts, items they've likes and rated and what other customers have bought.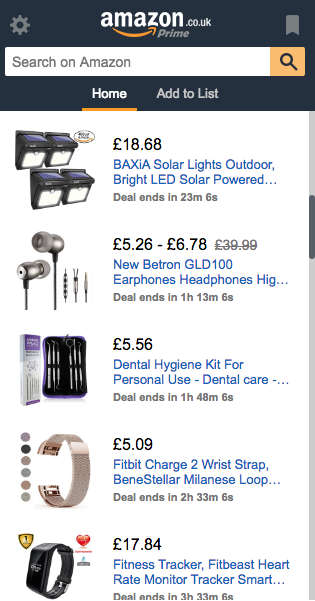 Cadbury's Cadbury's ran a personalised video campaign in Australia which used elements from user's Facebook profiles including photos, location, age and interests to match them with their perfect bar of Dairy Milk. The campaign got a 65% click-through rate and a 33.6 percent conversion rate – pretty amazing!
eBay eBay's AI-based Shopbot works like a digital shopping assistant – it uses machine learning and its graph database to make connections and help its users find product based on purchase intent.
Marie Curie For its Great Daffodil Appeal, Marie Curie matches supporter's geolocation data to point them towards collection sites and delivers persona-driven messaging based on previous interactions with the charity.
Lauren Harrison, Content Specialist, JBH – The Content Agency
Share:   
Posted in CMA Blog